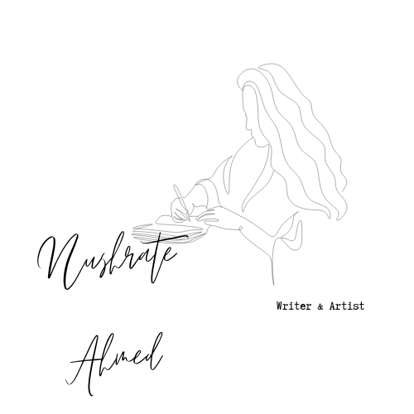 "Art is not the possession of the few who are recognized writers, painters, musicians; it is the authentic expression of any and all individuality. Those who have the gift of creative expression in unusually large measure disclose the meaning of the individuality of others to those others. In participating in the work of art, they become artists in their activity. They learn to know and honor individuality in whatever form it appears. The fountains of creative activity are discovered and released. The free individuality which is the source of art is also the final source of creative development in time."
Nushrate Ahmed is a writer from Bangladesh who was born on April 17, 1996. Her early years were largely spent in Queens, New York. She graduated from George Mason University with a Bachelor of Science in Information Technology, a double minor in Psychology and Chemistry, and a double concentration in Database and Web Multimedia.
She is the author of "One Sided Love," her first poetry, which was included three times in a row in the National Library of America for three years, and "Twisted," her first short story, which was featured in the school magazine in 2017. Over the course of her time in high school and college, she also published a number of additional works.
She occasionally draws in a creative manner as well. She draws for leisure, so she hasn't shared any of her graphical works with the public. She creates art based on her feelings or whenever she gets bored.
She enjoys watching K-dramas, listening to music, playing the piano, and reading books when she's not writing or drawing.